Tahoe Vista Treetop, California, United States
---
5.0 (72 reviews) Spent Ranking #1 in California Zipline & Aerial Adventure Parks
So happy to make fun summer memories even in the time of Corona virus.
Great time challenging ourselves on the ropes courses and having fun on the ziplines. We're in our mid 50's with our 20 year old kids. Corona virus precautions were in place. We wore masks during the check in, gear up and orientation - then they were optional once you're up in the trees. We stayed with our family group and it was not crowded due to reservations and limited numbers during each 2.5 hour time frame. Hand sanitizer at the end of each of the 9 courses too. Staff was very helpful and kind. t's a great activity in the great outdoors - views of the lake included!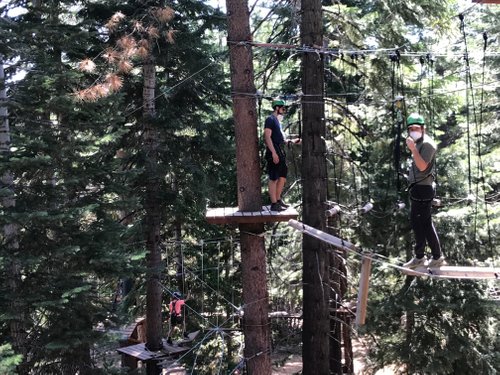 Address
6600 Donner Road Upper Parking Lot - North Tahoe Regional Park, Tahoe Vista, California, United States, Postal Code: 96148.
Mobile
Website
https://tahoetreetop.com/tahoe-vista-treetop
Email
Current local date and time now
Tuesday, December 05, 2023, 16:53
User Ratings
5.0 based on (72 reviews)
Reviews
---
5

lsjkhb 5:00 PM Jun 16, 2021 Awesome Family Fun!

We recently went to Tahoe Treetop Adventure for our third time…we have been to the Granlibakken location once, and the Tahoe Vista location twice. They both have great ropes courses and friendly staff. My favorite course is Cliffhanger at Tahoe Vista. I would highly recommend their ropes course adventures…our family of six (four teens ages 15-19, and my husband and I) all had a wonderful time! We will definitely be back again (and again).

---

5

Kimbabites 5:00 PM Jul 24, 2021 Highlight of our trip to Tahoe

I was looking forward to this activity and it did not disappoint. Courses were fun and just challenging enough without being torture for 50-something parents and a 17 and 14 year-old. We had an early session which was nice because it got pretty hot later in the day. The instructions and safety tips given at the beginning were clear, and none of us felt unsafe at any time. We got stuck behind some people having difficulties a few times, but for the most part we felt that we were moving and were able to do all the courses we wanted to do. It didn't feel too crowded and everyone was pretty spread out on the site. It was quite a work-out and my arms were sore afterwards. We saw some very small kids on the hardest courses and they surprisingly did very well. We all had a blast and would be interested in doing it again, perhaps at their other site someday.

---
See also
More Things to do in California