Mobile Videography and Video Editing upto, 70% SSG funding 手机视频摄影和视频编辑, 70%, Singapore, Singapore
---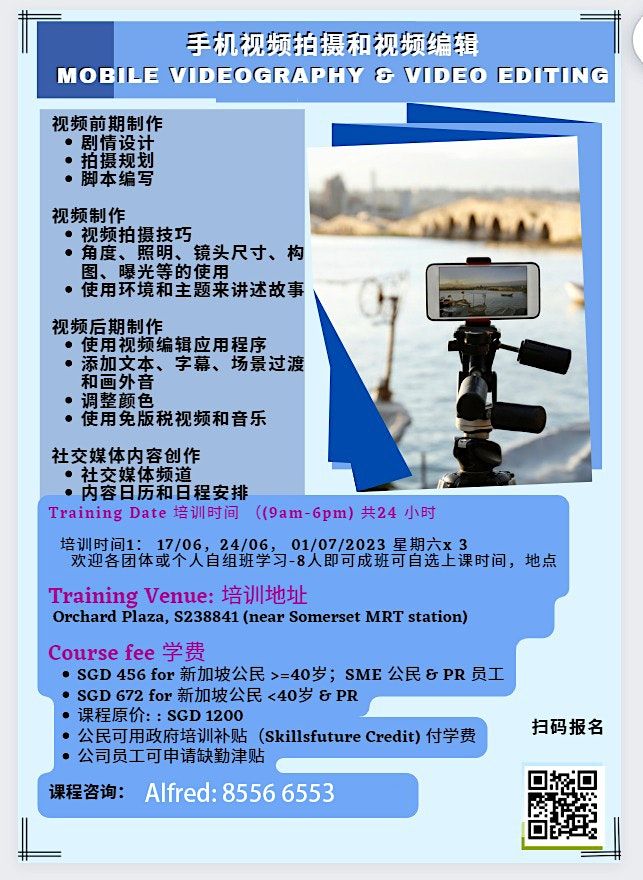 Comprehensive course covering videography & video editing techniques, equipping students with skills to shoot, edit, & produce professional

About this Event


We have course on several different schedules. Please contact us if you prefer other days: 8556 6553
Mobile videography and video editing course
Our videography and video editing course is designed to provide a comprehensive learning experience for individuals interested in the art of creating compelling videos. Through a combination of theoretical knowledge and practical exercises, students will gain a solid foundation in videography techniques and develop proficiency in video editing software.
Phone Videography
The course begins with an introduction to the fundamentals of videography, including phone operations, video composition, lighting, and audio recording. Students will learn how to effectively capture various types of footage, such as interviews, events, and cinematic sequences. We will delve into the principles of storytelling and visual communication, exploring different genres and styles to enhance creativity.
Video Editing
Moving on to the video editing session, students will become proficient in using industry-standard software tools. They will learn to organize, import, and manage video assets, as well as perform basic and advanced editing techniques, including cutting, transitions, color grading, and audio manipulation. The course will also cover the integration of graphics, titles, and effects to enhance the visual impact of the videos.
Hands-on Practice
Throughout the course, students will have ample opportunities to apply their skills through hands-on exercises and projects. They will work on real-world scenarios, such as creating promotional videos, short films, and documentaries, allowing them to practice their videography and editing skills in a professional context.
Learning Outcomes
By the end of the course, students will have a strong foundation in videography and video editing, enabling them to confidently pursue careers or personal projects in the field. Whether aspiring to become professional videographers, content creators, or simply seeking to enhance their video production skills, this course equips students with the necessary knowledge and techniques to bring their creative visions to life.
Course Fee
This course is funded by SSG, you can get upto 70% funding for course fees. The rest can be paid by SkillsFuture Credits. You don't need pay money before attending the course. We will settle the payment in the first day course.
我们有多个不同的课程安排。如果您希望其他日期,请与我们联系。8556 6553
摄影和视频编辑课程
我们的摄影和视频编辑课程旨在为对创作引人入胜的视频感兴趣的学员提供全面的学习体验。通过理论知识和实际练习的结合,学员将获得扎实的摄影技术基础,并在视频编辑软件方面获得熟练掌握。
摄影基础
课程从摄影基础开始,包括相机操作、构图、灯光和音频录制。学员将学习如何有效地捕捉各种类型的镜头,如采访、活动和电影片段。我们将深入探讨叙事和视觉传达的原则,探索不同的风格和类型以增强创造力。
视频编辑
进入视频编辑方面,学员将熟练使用行业标准的软件工具。他们将学习组织、导入和管理视频素材,以及进行基本和高级的编辑技术,包括剪辑、过渡、调色和音频处理。课程还将涵盖图形、字幕和特效的整合,以增强视频的视觉效果。
实践练习
在整个课程中,学员将有充分的机会通过实践练习和项目应用他们的技能。他们将参与真实的场景练习,如制作宣传视频、短片和纪录片,从而在专业环境中实践他们的摄影和编辑技巧。
学习成果
课程结束时,学员将拥有扎实的摄影和视频编辑基础,能够自信地追求职业或个人项目。无论是渴望成为专业摄影师、内容创作者,还是仅仅希望提升视频制作技能,该课程为学员提供了必要的知识和技术,让他们能够将自己的创意愿景变为现实。
课程费用
该课程由SSG资助,您可以获得高达70%的课程费用资助。剩余部分可以使用SkillsFuture学分支付。在参加课程之前,您无需支付任何费用。我们将在第一天课程时安排付款事宜。
Price
Free
Address
Orchard Plaza, 150 Orchard Road, Singapore, Singapore
Event Date & Time
Local Time: Sat Jun 03 2023 at 09:00 am to Sat May 11 2024 at 06:00 pm (GMT+08:00)
Current local date and time now
Saturday, December 09, 2023, 12:55
Event category: Photography
More Things to do in Singapore