Race Thru Alabama 1M 5K 10K 13.1 26.2 50M- Now Only $12!, Washington, United States
---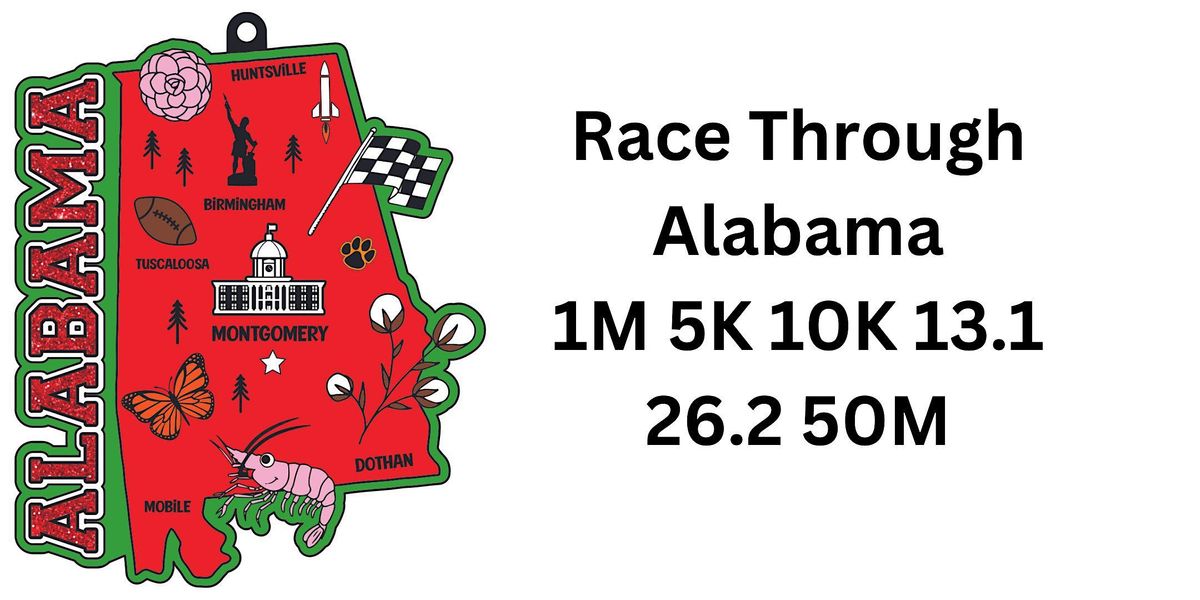 Our Race Through America Virtual Race Series continues! Join our Race Through Alabama 1M 5K 10K 13.1 26.2 50M virtual race!

About this Event


Sign up now for $12 instead of the regular $25!
Join our Facebook Group of more than 24,000 members HERE!
Our Race Through America Virtual Race Series continues! Each month we will race through a different state, until we've race through all of the states in America! Collect a medal from every state! Our Race Through ALABAMA can be completed anytime in 2023!
We will be donating 15% of each registration in our Race Through America series to Feeding America, who is the leading domestic hunger relief organization with a nationwide network of 200 food banks. We hope to help feed thousands with our Race Through America Series!
What: This is a virtual race. You choose to complete a 1 Mile, 5K, 10K, 13.1, 26.2 or 50 Miles. You complete your race on your own and submit your time to us. Then we ship your medal directly to you.
When: Our Race Through Alabama can be completed anytime in 2023!
Collect all 50 states!
*Medals and bibs will ship out within 2 to 5 days of signing up!
Where: You choose the course and you time yourself (you'll report your finishing time to us).
COST: $25 for each race, which includes your medal, official bib and shipping. Plus, at least 15% of every entry will be donated to Feeding America. *We are in no way affiliated with this charity, we like to choose a different charity for each of our races and are happy to raise funds for them.
What is a virtual race? A virtual race is a race that can be run (or walked) from any location you choose. You can run, jog, or walk on the road, on the trail, on the treadmill, at the gym or on the track (or even at another race). You get to run your own race, at your own pace, and time it yourself. Running and walking on your own, or with friends! And your medal will be shipped directly to you. Complete a virtual 5Ks, 10K, half marathon and more!
See ALL of our Races
https://cdn-az.allevents.in/events9/banners/0a808970-0de2-11ee-8b2e-6b33d62d37d8-rimg-w720-h796-gmir.jpg
Price
USD 12
Address
AROUND THE WORLD, Participate from home!, Washington, United States
Event Date & Time
Local Time: Sun Jul 16 2023 at 07:00 pm to Sun Dec 31 2023 at 05:30 pm (GMT-07:00)
Current local date and time now
Friday, December 08, 2023, 22:05
Event category: Trips & Adventures
More Things to do in Washington