2023 Shake Your Shades Fun Run 1M 5K 10K 13.1 26.2– Save $10!, Washington, United States
---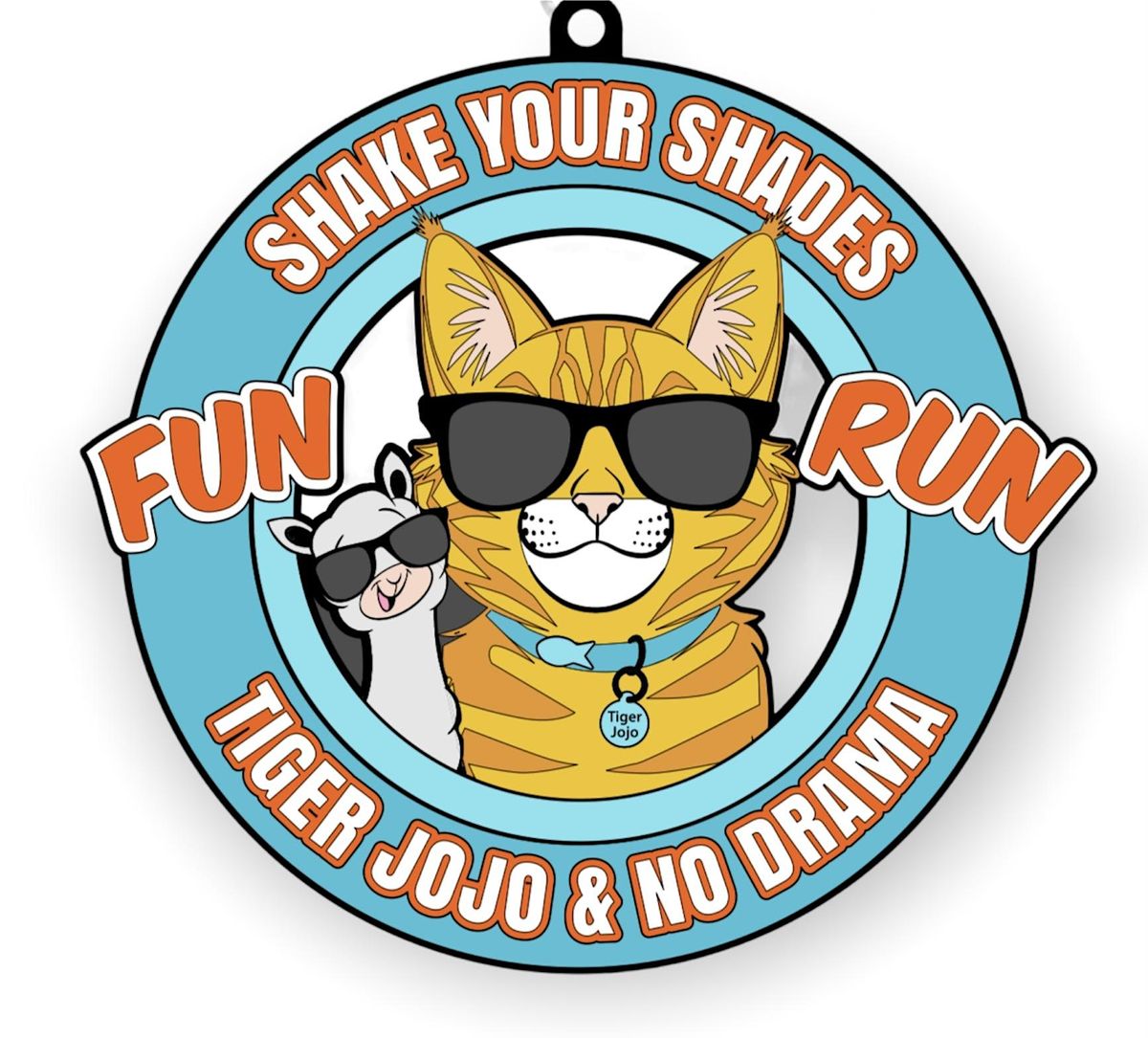 We are so thrilled to team up with Tiger JoJo, the cat, and his friend, No Drama Llama, for the Shake Your Shades Fun Run!

About this Event


Sign up now for $15 instead of the regular $25!
We are so thrilled to team up with Tiger JoJo, the cat, and his friend, No Drama Llama, for the Shake Your Shades Fun Run! Tiger JoJo has been participating in our virtual races and we love seeing his finish photos with his medals. If you haven't already, make sure you follow Tiger JoJo @tigerjojo. Now you can join in the fun and run, or walk, and get an amazing medal with Tiger JoJo and No Drama. Along with the medal you'll also get a keychain!
We will be donating 15% of each registration for this race to Alley Cat Allies, an amazing organization that is the global engine of change for cats. They protect and improve cats' lives through innovative, cutting-edge programs and are seen around the world as a champion for the humane treatment of all cats. They work toward a world where every cat is valued and protected and every community and shelter has policies and programs to save their lives.
Races can be completed anytime! There is no date, or year, listed on the medal and the race will remain open until medals sell out!
1 mile, 5k, 10k, 13.1, and 26.2 virtual races are available — you choose which distance you want to complete
Great for all ages!
A percentage of race registration fees will be donated to Alley Cat Allies
*Medals and bibs will ship out within 2 to 5 days of signing up.
Registration Fee: $25 (includes a medal, bib, keychain and donation to charity)
What is a virtual race? A virtual race is a race that can be run (or walked) from any location you choose. You can run, jog, or walk on the road, on the trail, on the treadmill, at the gym or on the track (or even at another race). You get to run your own race, at your own pace, and time it yourself. Running and walking on your own, or with friends! And your medal will be shipped directly to you. Complete a virtual 5Ks, 10K, half marathon and more! Each of our races benefits a different charity. We've already raised more than $926,413 for charities from running events on this website! We are making a difference…one race at a time.
https://cdn-az.allevents.in/events10/banners/4c2e62f0-042a-11ee-b09b-716f200eedc8-rimg-w720-h651-gmir.jpg
https://cdn-az.allevents.in/events6/banners/4d34af60-042a-11ee-b09b-716f200eedc8-rimg-w720-h952-gmir.jpg
https://cdn-az.allevents.in/events9/banners/4e0b3940-042a-11ee-8b2e-6b33d62d37d8-rimg-w720-h564-gmir.jpg
Price
USD 15
Address
AROUND THE WORLD, Participate from home!, Washington, United States
Event Date & Time
Local Time: Sat Aug 26 2023 at 07:00 pm to Sun Dec 31 2023 at 02:00 am (GMT-07:00)
Current local date and time now
Saturday, December 09, 2023, 6:03
Event category: Trips & Adventures
More Things to do in Washington