Dragon Boat / Hawaiian Outrigger Taster Session, Stockton-on-Tees, United Kingdom
---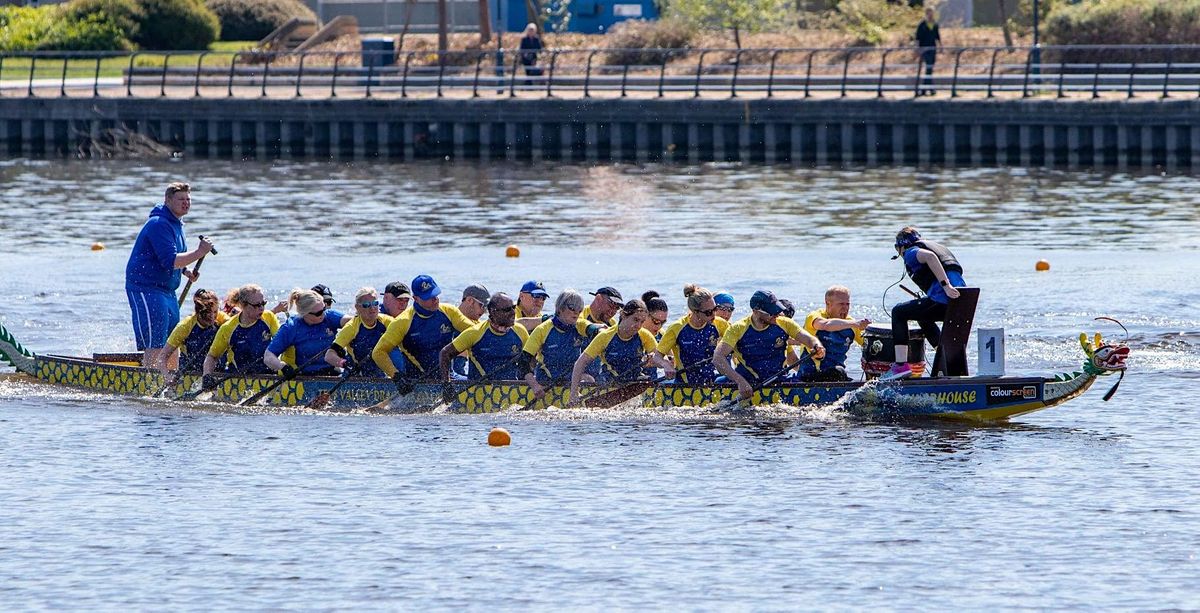 Looking to try something new, get fit, or meet new people? Come give Dragon Boat and Hawaiian Outrigger racing a try!

About this Event
https://cdn-az.allevents.in/events7/banners/0d8d6000-e47c-11ed-b09b-716f200eedc8-rimg-w720-h389-gmir.jpg


Family friendly, outdoors, team building activity!
It involves paddling a large canoe style boat together in time with up to 20 other people. In just under an hour we will teach you the basics of paddling while enjoying being out on the water of the Tees, experiencing the views from the water. We have both dragon boats (up to 20 paddlers) and a Hawaiian outrigger canoe (up to 6 paddlers).
Sessions are suitable for individual adults 16+ years, accompanied children 10+, no group bookings. To book a separate group session (fees apply) please contact us on the links below:
Website: TeesValleyDragons.co.uk
Facebook: PowerhouseDBRC
Please arrive promptly to allow safety briefings to take place to allow you to take part.
Arrive at 9:30am Saturdays
When you arrive, one of our members will meet you. You will be given a full safety brief and an introduction to paddling by one of our fully qualified and experienced coaches. Here we will give you all your equipment to take part in the session (a paddle and buoyancy aid). This is also where you can ask us any questions you may have. You will then be guided to the boat where we will teach you the basics of paddling in around an hour. Straight away you will be paddling the boat under expert guidance while having fun and making many new friends!
A typical session will include the following:
A safety briefing from a qualified coach;
A warm-up to get the blood flowing;
Advice on paddling technique;
Focused aerobic and anaerobic training pieces;
Practice start sequences and race distances;
Land based cool down.
What you will need to bring to your first session:
gym kit/sports kit;
sports footwear (trainers you don't mind getting a little wet);
a waterproof coat or jacket and long sleeve top/hat/ warm layers for the cooler months;
a towel and change of clothes;
a drink/snack for afterwards.
Please do not wear:
jeans;
heels or boots of any kind e.g wellington, walking, fashion;
lose jewellery;
wetsuit;
heavy, bulky items of clothing such as winter coat;
dress or skirt;
swimwear.
Unsuitable clothing may result in you being unable to take part in the session for safety reasons.
https://cdn-az.allevents.in/events10/banners/0db1b0e0-e47c-11ed-b09b-716f200eedc8-rimg-w720-h848-gmir.jpg
https://cdn-az.allevents.in/events10/banners/0dee6bc0-e47c-11ed-b09b-716f200eedc8-rimg-w720-h834-gmir.jpg
Price
GBP 5
Address
River Tees Watersports Centre, North Shore Road, Stockton-on-Tees, United Kingdom
Event Date & Time
Local Time: Wed May 03 2023 at 06:00 pm to Sat Dec 23 2023 at 11:30 am
Current local date and time now
Wednesday, December 06, 2023, 1:21
Event category: Trips & Adventures
More Things to do in Stockton-on-Tees