True Dating Stories - Singapore with Deepak Chandran
---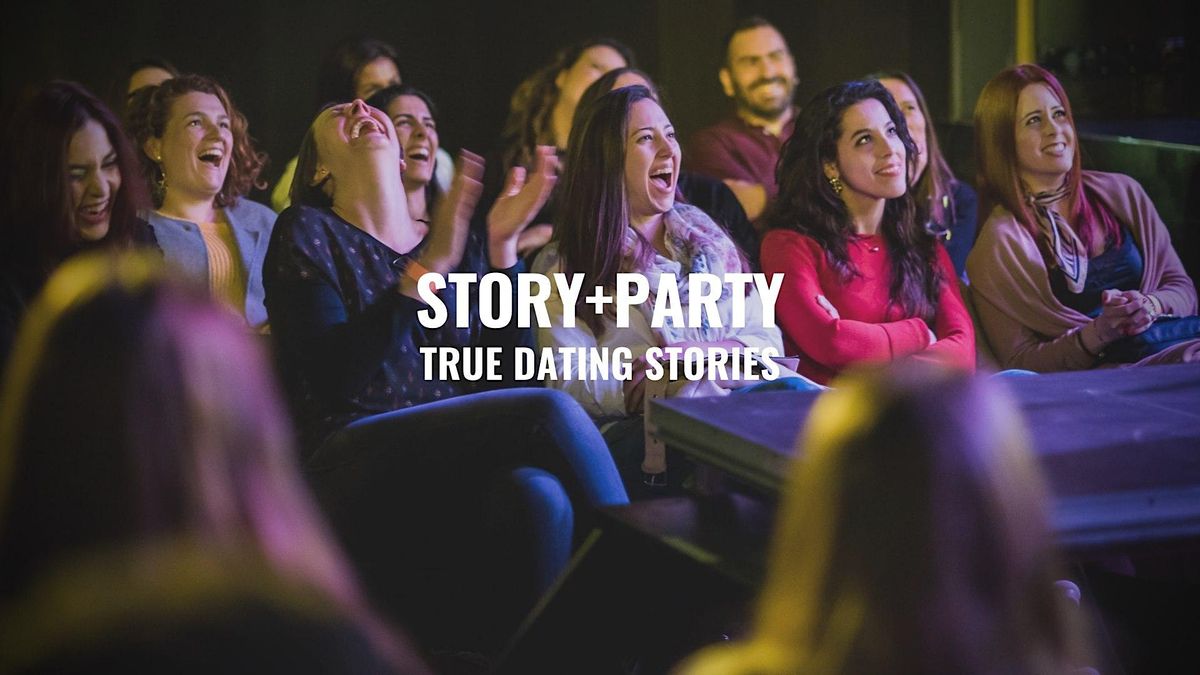 At Story Party you will hear true dating stories that will make you feel better because let's be honest, it could be worse.

About this Event


At Story Party you will hear true dating stories that will make you feel better, because, let's be honest, it could be worse. Story Party has played to sold out audiences in over 65 countries because the dating struggle is real worldwide!
We are in town for a short time only, so grab your tickets. You've had enough coffee dates to master the art of fake laughing, now come to our show and laugh for real!
— — — Wanna share your story? — — —
Write your dating story on our confession slips. We'll read a few and you can make the audience laugh at your dating pain.
Here are some recent submissions:
"Once I had a date come over. He came drunk and with a bag of groceries. I told him nothing's gonna happen because he's too drunk, but we can have some of the food. He got so offended and wanted to leave, but on dates in Finland, everything is 50-50, so he started to divide the snacks. There was a pack of six cookies... he opened the bag, gave me three and then left."
"Met a cute religious girl. Planned a date. The day before, a friend came over and wanted to do psychedelics. We tripped, had a wonderful time, and he left 7 hits of the acid in an orange juice container. Next day she comes over. I came out of the bathroom and saw that she drank all the orange juice/acid. I had to trip sit for 8 hours whilst she yelled "God is not real!" Everything turned out fine. We dated for a few months. Last I heard she quit her job as a religious teacher."
"I went on a date with a guy from Tinder. We went to a pub to grab a drink. A girl came over and slapped him. Then he introduced us: "Hey, this is my Tinder date from yesterday!"
— — — Wanna share your story online? — — —
Go to http://storyparty.net
— — — Story Party YouTube — — —
Is it really funny? Yes, check out our YouTube channel. We dare you.
https://www.youtube.com/storypartytour
— — — Story Party Podcast — — —
For more audience stories and behind the scenes content subscribe to our podcast on Spotify!
Spotify: http://bit.ly/StoryPartyPodcastSpotify
— — — Cooties-19 Safety Measures — — —
All regulations will be followed in accordance to local guidelines including socially distanced seats, masks when required, and hand sanitizer.
— — — What are people saying about Story Party? — — —
What. A. Night. My abs still hurt from the great laughs.. Amazing content. Amazing stories. I recommend this show to everyone!!!
- Nobubele from Johannesburg ??
Definitely a class apart from all the comedy shows or storytelling acts I've ever watched! Thanks for a brilliant show, come back to India soon!
- Megha from Bombay ??
"Thanks for a brilliant night and pulling me out of my comfort zone (to shake like a leaf on stage and tell my story) - definitely will remember this one... Fun night for sure ? ?"
- Claudia from Prague ??
"I only got interested in this show because they speak my language - sarcasm ? it was awesome. Ppl with no filter at all telling their stories and its hilarious ?? Thank for the laugh guys? "
- Helina from Hamburg ??
"Funny cuz it's true! This show is so relatable ? single, in a relationship or in between, you shouldn't miss this! Thanks for a night of good laughs..! ??
- Karoline from Oslo ??
"Have seen 2 shows so far and will go to the next one! Loved it, keep it going ?"
- Samantha from Perth ??
"The show was amazing! Can't wait for the next one"
- Danyel from Vancouver ??
"My cheeks still hurt! Will def come back!"
- Claudia from Boston ??
"I haven't laughed so hard in such a long time ??"
- Clare from London ??
Had an amazing time on stage! thank you all so much for letting me come up on stage to tell my failed dating stories
- Ramond from Singapore ??
— — — Frequently Asked Questions — — —
I'VE BEEN TO STORY PARTY BEFORE. WILL THE SHOW HAVE NEW STORIES?
Yes. All new content!
IS IT OPEN SEATING?
Yup. Get your butt there early and your butt gets good seat.
HOW LONG IS THE SHOW?
2 hours. Sometimes longer. Sometimes shorter #LengthMatters
DO I HAVE TO PRINT MY TICKETS?
No. Just show them on your phone. This ain't 1997.
CAN I COME IF I'M IN A RELATIONSHIP?
Yes.
DOES THE SHOW CONTAIN STRONG LANGUAGE?
Yes.
IS THE SHOW IN ENGLISH?
Yes.
CAN I COME ALONE?
Yes.
IS THIS A SPEED-DATING EVENT?
Definitely Not.
CAN I TELL A STORY?
Maybe. At the show we have papers to share your story or roll a blunt.
CAN I BRING MY DATE?
Yes, invite them all. Dating is a numbers game. #RealTalk See Less
Price
SGD 50
Address
Blu Jaz , Bali Lane, 11 Bali Lane, Singapore, Singapore
Event Date & Time
Local Time: Wed May 17 2023 at 08:00 pm to Wed Dec 13 2023 at 10:00 pm
Current local date and time now
Saturday, December 09, 2023, 14:11
Event category: Comedy
More Things to do in Singapore