Outdoor Urban Landscape Sketching Course, Singapore, Singapore
---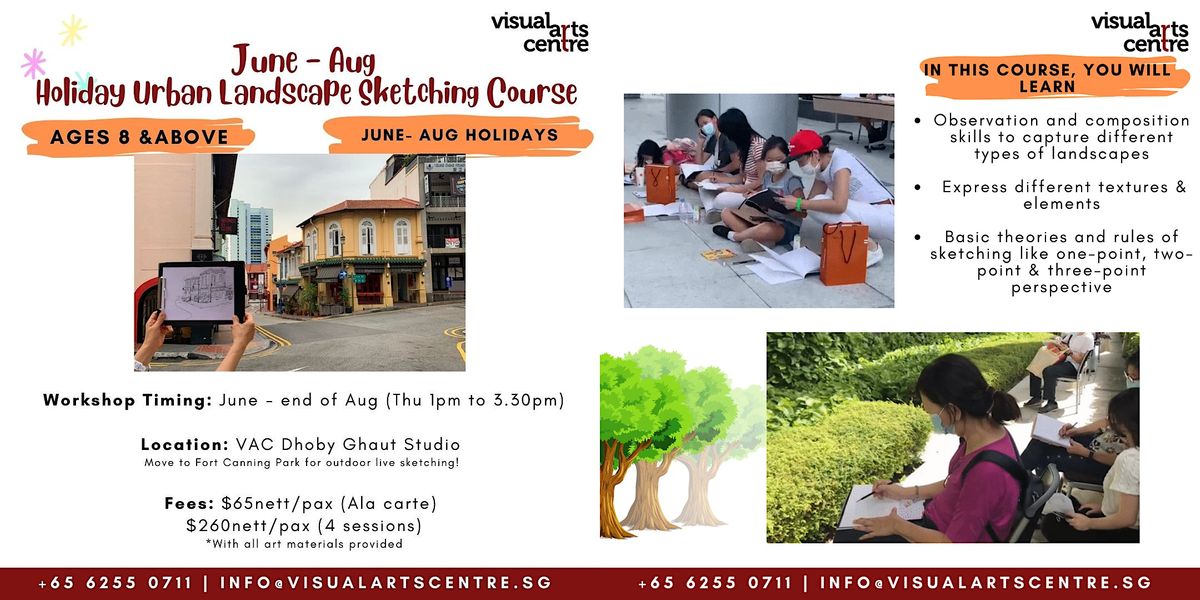 Join our Outdoor Urban Landscape course and learn skills for one of the most practical forms of drawing that can be utilised on the go!

About this Event


Urban landscape sketching can be applied in situations like when you are off on a trip and would like to capture the breathtaking scenery in front of you! The main goal is to express the interaction between man-made elements and nature. It is not a hard skill to pick up and is suitable for learners with all levels of experience!
In this course, you will learn the following:
Understanding Perspective in urban sketching. You'll learn about one-point, two-point, and three-point perspectives and how to apply them to accurately represent buildings and streets in your sketches.
Composition and Framing learn about how to create dynamic and interesting compositions and capture different types of landscapes
Urban scenes are full of urban elements and details. You'll study different techniques to draw buildings, windows, doors, street signs to add life and authenticity to your sketches.
Introduction of sketching techniques and skills to express different textures and elements.
This is a guided course with professional instructor guidance and we will also be going outdoors to capture different life subjects such as trees, bushes and architecture. All art materials will be provided for this course and is suitable for learners from the age of 8 years and above with varying levels of experience!
Workshop Date/Time: Every Thursdays, 1pm- 3.30pm
Location: Visual Arts Centre Dhoby Ghaut Studio
We will be moving to Fort Canning Park to do outdoor live sketching!
For Art Course Enquiry, please call or WhatsApp us at +65 6255 0711.
Price
SGD 260
Address
Visual Arts Centre, 10 Penang Road, Singapore, Singapore
Event Date & Time
Local Time: Thu Jun 29 2023 at 01:00 pm to Thu Jan 18 2024 at 03:30 pm (GMT+08:00)
Current local date and time now
Wednesday, December 06, 2023, 9:46
Event category: Fine Arts
More Things to do in Singapore