Conflict Management/Resolution Training in Salinas, CA, Puerto Rico
---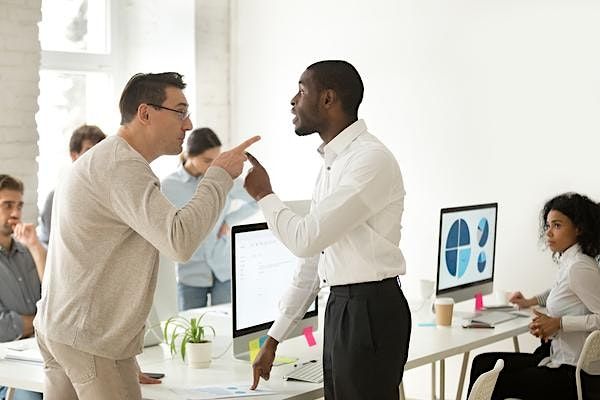 Conflict Management Skills Training by Industry Expert

About this Event


Conflict management is the process of limiting the negative aspects of conflict while increasing the positive aspects of the conflict. The aim of conflict management is to enhance learning and group outcomes, including effectiveness or performance in an organizational setting.
Conflict management is the process by which disputes are resolved, where negative results are minimized and positive results are prioritized. This key management skill involves using different tactics depending on the situation, negotiation, and creative thinking.
Conflicts are inevitable when people with different personalities and goals are put together to work in the same environment. Quite often, the clash that results leads to extreme anger and animosity, and this can have a very disruptive effect on the entire team. As a leader, you are often called upon to defuse the situation and resolve differences in a collaborative manner, before the situation spirals out of control.
Our one-day Conflict Management and Communication Skills provide you with effective tools to manage stressful situations in the workplace and become a highly successful person and leader. Learn to build conflict resolution techniques that work, and manage complex team dynamics with sensitivity and firmness.
Why is conflict management important?
When conflict is managed effectively, team members see conflict as a tool to exchange ideas while allowing each party to be equally heard. "Teams cannot have effective communication without productive conflict." Adequately managed conflict is an effective form of communication rather than a fearful argument.
The conflict management process has steps such as identifying conflicts, analyzing conflict, identifying an alternative solution, applying conflict resolution techniques, choosing the best alternative, implementing the solution, and reviewing the impact.
What you will learn:
On completion of this course, participants will be able to:
Understand why conflicts arise
Identify common responses to conflicts in terms of behavior, thoughts, and attitude
Explore Aggressive, Passive, and Assertive approaches and the consequence of each response
How to deal with difficult team members
Learn effective conflict resolution methods and best practices for managing conflicts
How to build trust and credibility with colleagues and team members
Learn to hold difficult conversations calmly and assertively
Course Agenda:
The training workshop covers the following aspects:
The intention behind every conflict-The cause and effect of the conflict. How did it happen? What were the consequences?
Mind-set Change – Why is it important for this change? Changes are needed for progression in life. Get rid of old habits that prevent you from moving ahead. In this millennial generation, cultural differences are inherent. The steps we need to take to fit into this cultural era and adapt to the working environment and varied styles of employees
How to apply the principles leading to conflict resolution and establish a harmonious working environment
The 5-step strategy in implementing the blueprint for Conflict Resolution
The areas that will be examined include:
Self-Awareness and Self-Management
Be aware of the working environment around us
Emotions
How to Manage Our Emotions Better
Conflicting Styles
Why are there conflicting styles and how to manage them and collaborate
Conflicting Roles
The similar roles in the organization that cause conflicts
Conflicting Resources
Allocation of resources that trigger conflicts and how to manage them
How to build and sustain relationships with your supervisors, colleagues, and peers
Three areas to examine:
Breaking Barriers to Effective Communication in a Cross-Cultural Diverse Environment
The Mastery of Building Rapport in the Workplace
Build trust and Confidence amongst supervisors, colleagues, and peers
Why global corporates prefer Knowledgeteh Inc as their Training Partner
A provider of Enterprise Learning Solutions (ELS), Knowledgeteh Inc creates industry-fit talents through training, coaching, and consulting by globally-acclaimed trainers. Much of Knowledgeteh repute in co-creating business value stems from:
Training delivered in 37+ countries.
350+ industry-relevant courses.
Consulting and coaching to transform organizations.
Trainers with experience in Retail, E-commerce, Energy & Utilities, etc.
*We also conduct corporate training in your preferred location and dates with no additional cost.
Contact us for more information:Name: Julie CoeEmail:
anVsaWUgISBjb2UgfCBrbm93bGVkZ2V0ZWggISBjb20=
Tel: +1 (302) 251-9769
Price
Starts at USD 599
Address
Salinas, CA, United States
Event Date & Time
Local Time: Fri May 26 2023 at 09:00 am to Fri May 23 2025 at 05:00 pm
Current local date and time now
Tuesday, December 05, 2023, 20:58
Event category: Entertainment
More Things to do in Salinas