Bee Happy 5K 10K 13.1 26.2, Phoenix, Mauritius
---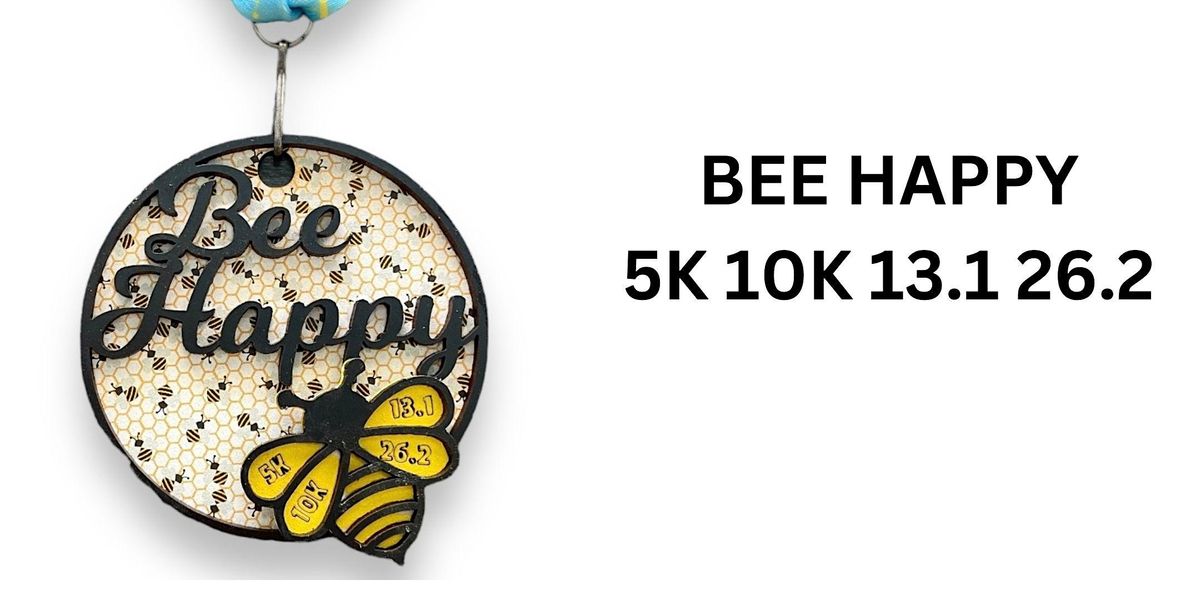 Get ready to buzz with excitement and run the Bee Happy 5K, 10K, 13.1, or 26.2 race - let's spread some happiness!

About this Event



Join our Facebook Community of more than 23,000 members HERE!
Join us for the Bee Happy 5K 10K 13.1 26.2! This virtual race is perfect for runners of all levels who want to have fun and get active. Lace up your sneakers and join us for a virtual run that will leave you buzzing with excitement. Whether you're a seasoned runner or just starting out, this event is a great way to challenge yourself and stay motivated. So grab your friends and family, and let's get moving! Don't miss out on the chance to Bee Happy and run for a great cause.
Did you know that May 20th was World Bee Day? We are helping create awareness with our first ever Bee Happy 5K, 10K, 13.1 26.2. Bees do so much more than we realize and are so important to our planet. Plus, we want everyone to BEE happy!
Also, at least 15% of every registration to Pollinator Partnership, an amazing organization who's mission is to promote the health of pollinators, critical to food and ecosystems, through conservation, education, and research.
These medals are GARAGE MADE – that's right, they were made right here in our very garage! We've been adding some locally made medals, and these ones are made of layered wood and turned out awesome! This medal is 3.25 inches and comes with a Virtual Race Events bib where you can write in your race, distance and time.
What: This is a 5K 10K 13.1 or 26.2 virtual race in honor of Mental Health Awareness Month! You choose which distance you will complete.
When: Complete your race any time in 2023.
*Medals and bibs will ship out within 2 to 5 days of signing up.
Where: You choose the course and you time yourself (you'll report your finishing time to us).
Why: Because this is our way of celebrating BEES and BEE-ing Happy!
Cost: The price is $17.99 and that includes your medal, bib and at least 15% of every entry will be donated to Pollinator Partnership. *We are in no way affiliated with this charity, we like to choose a different charity for each of our races and are happy to raise funds for them.
What is a virtual race? A virtual race is a race that can be run (or walked) from any location you choose. You can run, jog, or walk on the road, on the trail, on the treadmill, at the gym or on the track (or even at another race). You get to run your own race, at your own pace, and time it yourself. Running and walking on your own, or with friends! And your medal will be shipped directly to you. Complete a virtual 5Ks, 10K, half marathon and more! Each of our races benefits a different charity. We've already raised more than $892,045 for charities from running events on this website! We are making a difference…one race at a time.
https://cdn-az.allevents.in/events4/banners/7c87cbb0-0a80-11ee-b09b-716f200eedc8-rimg-w720-h816-gmir.jpg
Price
USD 18
Address
AROUND THE WORLD, Participate from home!, Phoenix, United States
Event Date & Time
Local Time: Sat Jul 01 2023 at 07:00 pm to Sun Dec 31 2023 at 10:00 pm (GMT-05:00)
Current local date and time now
Wednesday, December 06, 2023, 4:46
Event category: Trips & Adventures