2023 Race 4 Love 1M 5K 10K 13.1 26.2-Now Only $9!, Phoenix, Mauritius
---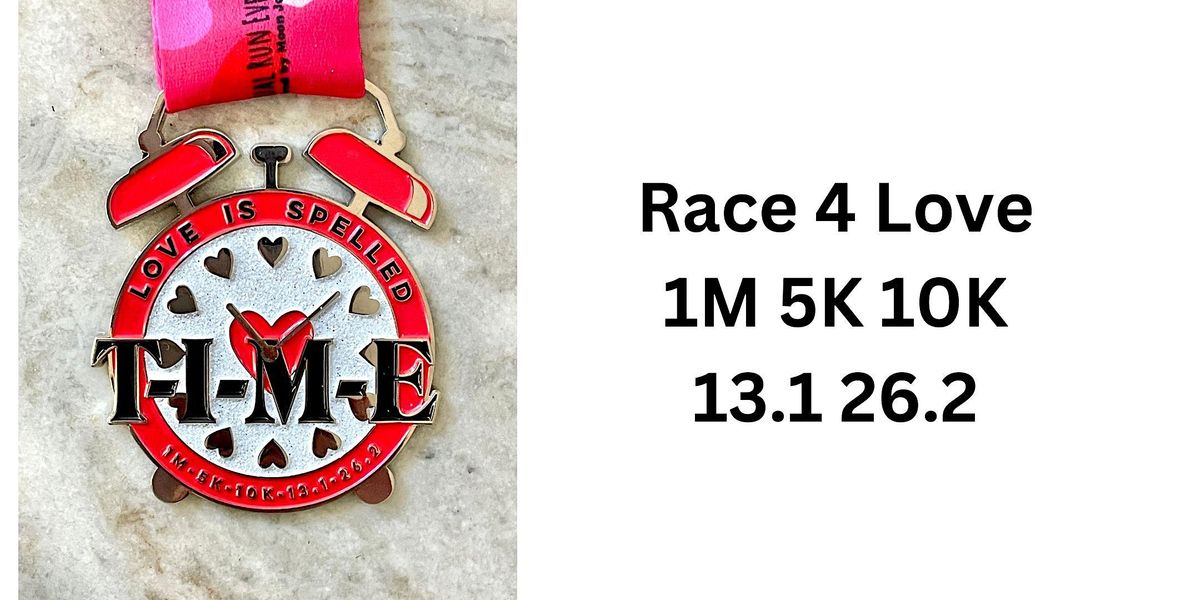 RACE 4 LOVE is our EIGHTH annual virtual event for all of you lovers out there. We are celebrating LOVE!

About this Event


*SIGN UP NOW FOR $9 INSTEAD OF THE REGULAR $19.99!
Join our Facebook Community of more than 23,000 members HERE!
RACE 4 LOVE is our EIGHTH annual virtual event for all of you lovers out there. Celebrate the people you love and be sure to give more of your TIME to those that you LOVE.
Plus, we'll be donating at least 15% from every registration to Heart to Heart International, an amazing organization that is distributing hygiene kits for those in quarantine or unable to leave their homes across the US. While personal protection supplies are limited globally, HHI has collected and distributed items, including masks, gowns, and sanitizers. HHI remains an active member of healthcare coalitions, providing gap support so that service organizations can continue to operate.
What: This is a 1 Mile, 5K, 10K, 13.1, 26.2 virtual run (or walk) to Race 4 Love!!! You decide which distance you want to complete!
When: Complete your race any time in 2023!
Where: You choose the course and you time yourself (you'll report your finishing time to us).
Why: Because this is our way of celebrating LOVE!
Cost: The price is $19.99 and that includes your medal, bib and at least 15% of every entry will be donated to Heart to Heart International *We are in no way affiliated with this charity, we like to choose a different charity for each of our races and are happy to raise funds for them.
What is a virtual race? A virtual race is a race that can be run (or walked) from any location you choose. You can run, jog, or walk on the road, on the trail, on the treadmill, at the gym or on the track (or even at another race). You get to run your own race, at your own pace, and time it yourself. Running and walking on your own, or with friends! And your medal will be shipped directly to you. Complete a virtual 5Ks, 10K, half marathon and more! Each of our races benefits a different charity. We've already raised more than $892,045 for charities from running events on this website! We are making a difference…one race at a time.
https://cdn-az.allevents.in/events8/banners/d1056190-fa4d-11ed-8b2e-6b33d62d37d8-rimg-w720-h866-gmir.jpg
Price
USD 9
Address
AROUND THE WORLD, Participate from home!, Phoenix, United States
Event Date & Time
Local Time: Sat Jun 24 2023 at 07:00 pm to Sun Dec 31 2023 at 11:00 pm (GMT-07:00)
Current local date and time now
Saturday, December 09, 2023, 8:27
Event category: Trips & Adventures