2023 Pi Day 5K -Now Only $6!, Phoenix, Mauritius
---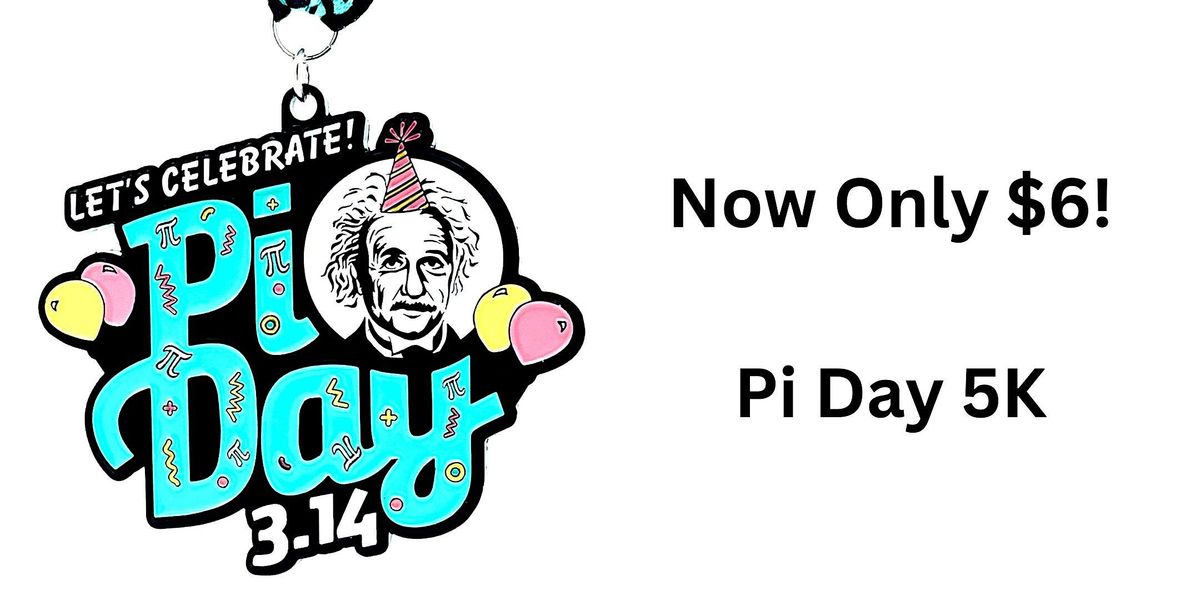 Did you know that Pi Day is celebrated on March 14th (3/14) around the world. Pi (Greek letter "π") is the symbol used in mathematics to rep

About this Event


*SIGN UP NOW FOR $6 INSTEAD OF THE REGULAR $19.99!
Join our Facebook Community of more than 23,000 members HERE!
Did you know that Pi Day is celebrated on March 14th (3/14) around the world. Pi (Greek letter "π") is the symbol used in mathematics to represent a constant — the ratio of the circumference of a circle to its diameter — which is approximately 3.14159. So celebrate with our Pi Day 5K! Also, Nobel Prize-winning theoretical physicist Albert Einstein arrived in the world on March 14, 1879, which probably makes him the most famous Pi Day baby of all time. How cool is that?!?!
Plus, we will be donating at least 15% of every registration to Soles 4 Souls, a great organization that creates sustainable jobs and provides relief through the distribution of shoes and clothing around the world.
What: This is a 5K (or 3.14 mile) virtual run (or walk) to celebrate Pi Day!
When: Complete your race any time in 2023!
*Medals and bibs will ship out every 2 to 5 days.
Where: You choose the course and you time yourself (you'll report your finishing time to us).
Why: To celebrate Pi….and Albert Einstein!
Cost: The price is $19.99 and that includes your medal, bib and at least 15% of every entry will be donated to Soles 4 Souls. *We are in no way affiliated with this charity, we like to choose a different charity for each of our races and are happy to raise funds for them.
What is a virtual race? A virtual race is a race that can be run (or walked) from any location you choose. You can run, jog, or walk on the road, on the trail, on the treadmill, at the gym or on the track (or even at another race). You get to run your own race, at your own pace, and time it yourself. Running and walking on your own, or with friends! And your medal will be shipped directly to you. Complete a virtual 5Ks, 10K, half marathon and more! Each of our races benefits a different charity. We've already raised more than $892,045 for charities from running events on this website! We are making a difference…one race at a time.
https://cdn-az.allevents.in/events9/banners/c8eb08e0-0801-11ee-b09b-716f200eedc8-rimg-w720-h736-gmir.jpg
Price
USD 6
Address
AROUND THE WORLD, Participate from home!, Phoenix, United States
Event Date & Time
Local Time: Sun Jun 11 2023 at 07:00 pm to Sun Dec 31 2023 at 03:00 am (GMT-05:00)
Current local date and time now
Saturday, December 09, 2023, 8:56
Event category: Trips & Adventures