2023 Day of the Dead 1M 5K 10K 13.1 26.2-Save $2, Phoenix, Mauritius
---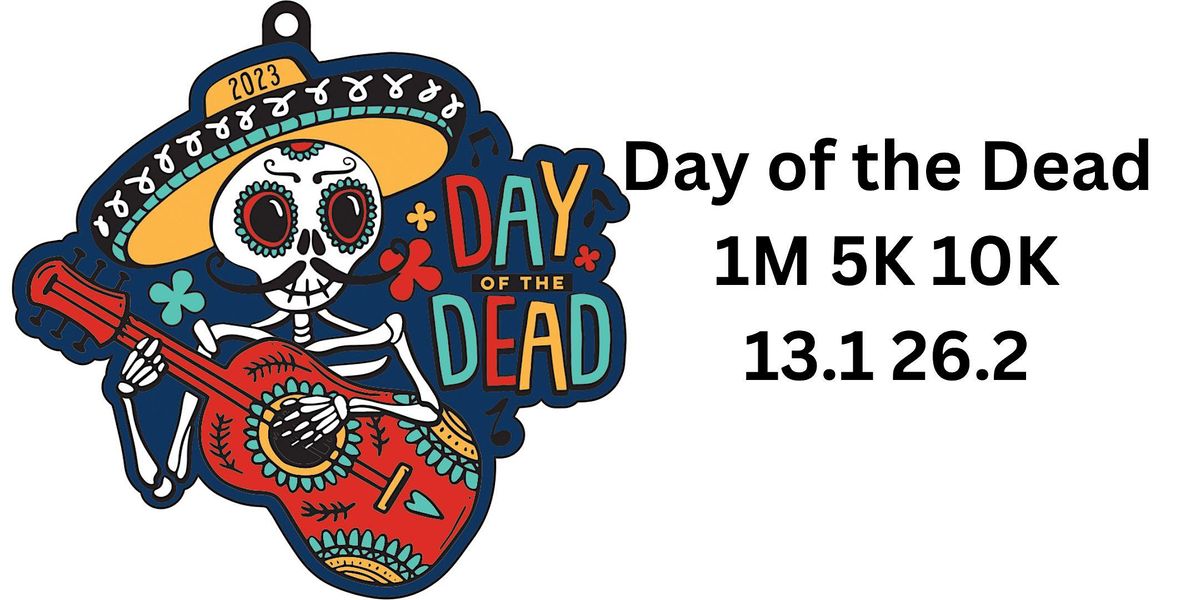 Day of the Dead starts on November 1 and ends on November 2, 2023. It is a Mexican holiday in which families remember and honor their

About this Event


*SIGN UP NOW FOR $17.99 INSTEAD OF THE REGULAR $19.99!
Join our Facebook Community of more than 23,000 members HERE!
Day of the Dead starts on November 1 and ends on November 2, 2023. It is a Mexican holiday in which families remember and honor their deceased loved ones. To celebrate we are hosting our third annual Day of the Dead 1 Mile, 5K, 10K, 13.1, 26.2!
We will be donating at least 15% of every registration to the National Military Family Association whose mission is to stand up for, support, and enhance the quality of life for every military family through bold advocacy, innovative programming, and dynamic and responsive solutions.
Races can be completed anytime in October or November 2023
1 mile, 5k, 10k, 13.1, and 26.2 virtual races are available — you choose which distance you want to complete
Great for all ages
A percentage of race registration fees will be donated to National Military Family Association
You'll receive a beautiful medal upon completion of your event!
Registration Fee: $19.99 (includes a medal, bib, and donation to charity)
Medals and bibs will begin shipping out August 2023
What is a virtual race? A virtual race is a race that can be run (or walked) from any location you choose. You can run, jog, or walk on the road, on the trail, on the treadmill, at the gym or on the track (or even at another race). You get to run your own race, at your own pace, and time it yourself. Running and walking on your own, or with friends! And your medal will be shipped directly to you. Complete a virtual 5Ks, 10K, half marathon and more! Each of our races benefits a different charity. We've already raised more than $892,045 for charities from running events on this website! We are making a difference…one race at a time.
https://cdn-az.allevents.in/events9/banners/d6edee30-0658-11ee-b09b-716f200eedc8-rimg-w720-h698-gmir.jpg
Price
USD 18
Address
AROUND THE WORLD, Participate from home!, Phoenix, United States
Event Date & Time
Local Time: Wed Nov 01 2023 at 07:00 pm to Thu Nov 30 2023 at 03:00 am (GMT-07:00)
Current local date and time now
Saturday, December 09, 2023, 8:18
Event category: Trips & Adventures